Hungarian Retriever and Waterdog breeding information
It is our mission to help retriever and waterdog breeders in maintenance and breeding in order to keep up the breed standards and breed healthy and sound individuals. Our members are committed to responsible breeding. Below we are submitting all infromation regarding breeding. You can find the breeding criteria and regulations, health requirements and can read about stud dogs availability, and also if you are looking for new puppies you can browse the new litter offer.
Available litters
The aim of this list is to offer a starting point and help for those who are interested into puppies among the breeders, and make choosing of breeders and puppies safer.
We are listing only litters that meet either the minimum or the premium requirements of the Breeding Regulation of MRVE. Getting on the list is not automatic, the breeder may request it by filling out the formula below.
NOVA SCOTIA DUCK TOLLING RETRIEVER
Kennel Tollador's
Parents
Sire: CH Kasomor's Roy to Cashel Vale – Roy (import Canada)

Dam: ICH MultiCH MultiJCH Dragonflame's Spread Your Wings – Finnie (import Finland)
Genetic tests
Puppies have genetic tests:
prcd-PRA-Normal/Clear, CEA/CH-N/N, JADD-N/N, CP1-N/N-Normal/Clear, DEN-N/N-Normal/Clear by parentage!
Results
Working trials: Roy trains tolling, WT and retrieving, Finnie trains Obedience and retrieving.
She is Junior World Winner from Budapest 2013, Master of Obedience 2013 and Winner of League Obedience 2013,2014 and 3rd-2015, qualif.for Crufts 2015.
We have available two puppies – boy.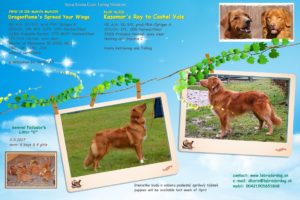 Breeding standards and regulations
Good dogs come from good breeders. Good breeders strive to improve their breeds while considering canine health, temperament, training, and promoting responsible dog ownership. Part art, part science, and total devotion, breeding is exciting and challenging. We are here to support you on this amazing journey.
Please have a look at the breeding and working regulations by clicking on the buttom on the left.
We are proud that our members are all internationally respected breeders with quality kennels.
Let us introduce you our members whose dogs we are bravely recommending you. You are also welcomed to join our continously extending team.
Health checks and registration process
It is an iportant part of the maintaining job to supervise litters and check the parents. The Association provides a thorough breedings support turning to them.
The process of registration has been changed which is effective from the 19th of September.
By clicking at the bottom below you can find out more about the new process, and in case of any questions you can contact us.
Should you chose one of the recommended stud dogs, you can take it for granted that you have picked one of a top quality selection.
Our Club provides references for their members.